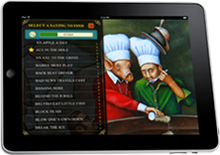 Full Immersive Experience
Get a full and real experience into the world of Proverbidioms. Pictures come to life as they make their own silly and bizarre sounds that make you feel like you're really there. You can zoom in up to 6x to view the incredible detail of the art. Hundreds of thousands of people have already bought the physical posters. Now for the iPad, Proverbidioms app offers a whole new interactive experience.
Hours of Fun For the Whole Family
Create users for the whole family and compete among yourselves to see who finds the most idioms. Adults love testing their own knowledge and kids learn tons of new idioms as they spend countless hours to find them all. But winning isn't as simple as just playing a lot.
Proverbidioms app also tests your skill on how accurately you can find the idioms.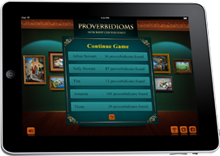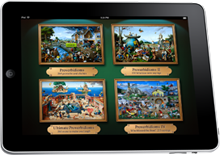 Learn Over 850 Idiom's Definitions & Origins
Ever wondered where a certain saying or proverb came from? Or what an idiom really means and how it emerged? Proverbidioms app is great entertainment that also teaches you over 800 English idioms, their definitions, examples of use and their origins! Humans learn best by seeing visual examples, in Proverbidioms app each idiom is represented by a literal picture which makes it easier for your brain to remember the idioms.
Make Your Facebook & Twitter Friends Laugh!
Share pictures of the hilarious idioms to your friends on Facebook, Twitter or email. For example, when you find a silly and witty idiom like, 'You are what you eat', which is represented by a carrot man eating a carrot - you can share this picture directly to your Facebook, Twitter or email. Which means you'll be making your friends laugh almost as much as you are.